SPECIALIST CONCRETE PUMP SERVICE

Concrete Pump Hire
365 Concrete provides a concrete pump hire service for those hard to reach jobs. Using a Concrete Pump is the most efficient way for concrete to be delivered, cutting out the need to use wheel barrows and cutting down on your labour costs and time, especially on larger jobs. We can supply both Line Pumps and Boom Pumps to fit your needs.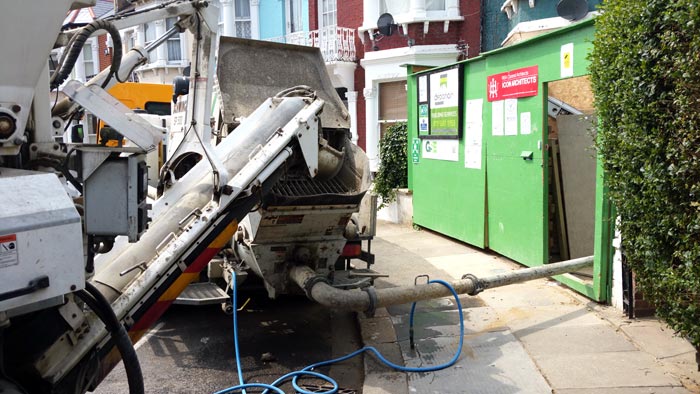 What Are They?
A Ground Line Pump consists of pipes that are laid on the ground. These pipes are able to access difficult or dangerous areas and are able to pump the concrete up and down stairs and slopes, as well as into buildings and basement areas where access would otherwise be impossible.
A Boom Pump however is attached to a hydraulic extendable boom arm that allows us to pump concrete over large obstacles like walls and buildings.
Get in touch with our team now for all your Concrete Pump Hire needs and let us make that difficult job easier for you. We pride ourselves on a quick, clean, and efficient delivery of your concrete using well trained and helpful staff.
✓ Same / Next Day Delivery
✓ Only Pay For What You Use
TESTIMONIALS
SEE WHAT OUR CUSTOMERS HAVE TO SAY
"I had to use the pump service after workmen let me down and I'm so glad I did. Cut down on costs and mess, would of taken hours to barrow the concrete in otherwise. Great service, cheers."
Jacob H. – Builder, Windsor
"I highly recommend 365 Pumps for anyone under taking large pours. We had a basement to fill and simply couldn't do it with wheel barrows alone, due to safety issues. This service got the concrete where it needed to be without any issues."
Mr. Lindon – Project Manager, Weybridge
"I've used concrete pumps before so this was a no brainer for me, especially as I got a better deal using this along with my concrete order. No problems at all, will defo use again. Thanks for the great service."
Samuel P. – Builder, Slough
"My property had very restricted access and I thought laying a large shed foundation would be impossible. Not with this pump though, it was worth the extra cost to get things finished."
Mr. Lesley – Builder, Slough
Commercial or Domestic Concrete - Only Pay For What You Use!
GET A FREE QUOTE TODAY:
0208 751 0101
Some Areas We Cover:
Windsor
Staines
Chobham
Slough
Reading
Bracknell
Central London
Greater London
Bedfont
Ascot
Camberley
Guildford
Aldershot
Basingstoke
Kingston
Heathrow
365 Concrete Ltd
Unit 7 Shepperton Trading Estate,
Littleton Lane, Shepperton,
Middlesex, TW17 0NF
Phone: 0208 751 0101
Email: info@365concrete.com