Volumetric Concrete Suppliers
Get The Right Mix, Every Time
Having your concrete delivered by a Volumetric Concrete Mixer means that you're concrete is mixed onsite,  giving you the right mix of fresh concrete every time.
Does This Work With A Concrete Pump?
Yes it does! A Volumetric Machine can mix at delivery speeds of 1m3 per minute. The concrete can be produced constantly, keeping up with the concrete pumps speed.
Do I Need To Use Wheel Barrows?
If we have good access and we are able to get close enough to the site, our auger system may be able to pour your concrete direct, eliminating the need for wheel barrows.
Sounds Great, How Do I Order?
Either use our contact us page or give or experienced team a call and let's discuss your project. Whether it's for domestic or commercial purposes, our Volumetric Mixers can handle it!
WHAT IS VOLUMETRIC CONCRETE?
Volumetric concrete is mixed using a Volumetric Truck, the more technical term is a Mobile Batching Plant. Using a Volumetric concrete mixer means that we are able to transport the materials in dry form and mix them on-site. This process enables us to make a precise concrete mix and we are also able to adjust the mix on the fly, making adjustments where necessary.
Using a precise control system we are able to mix and calculate your concrete usage, measuring it by volume and in turn, exact metres.
Getting your concrete order correct can sometimes be a lot harder than expected, especially for first time customers. One of the most common issues customers can face is ordering too much or too little and this is often a frustrating experience and can lead to complications and loss of time.
365 Concrete were the first UK concrete company to exclusively use a fleet of state of the art Volumetric concrete mixers.
Using our fleet of Volumetric trucks makes mixing concrete easy and quick, with a fantastic end product for the customer. We pride ourselves on only using high grade materials to ensure you get the best quality concrete.
THE VOLUMETRIC MIXING PROCESS
We use the on board control panel to set the exact concrete strength and mix.
The trucks conveyor belt begins moving the aggregate into the mixing area of the auger.
At the same time, the cement and water are added using the trucks hopper and a hose.
The raw materials are mixed at the bottom part of the auger and using a corkscrew design, pushed through to the end of the auger.
Fresh, perfectly mixed concrete exits the auger and slides down the chute into it's required destination.
Volumetric Concrete Benefits
Fast concrete delivery, up to 1m3 per minute
Concrete mixed on site, no waste or over ordering
Can mix either concrete or screed
Mix different strengths of concrete on the fly
Additional reach of 5m with extendable chutes
WHAT ARE THE MAIN BENEFITS OF VOLUMETRIC CONCRETE?
There are many advantages of having volumetric concrete as opposed to ordering with a concrete company that uses the more outdated Drum Mixer.
With the ability to mix on-site, we eliminate the issue of over ordering concrete which leads to much less waste on site and also means you only pay for what you use. Unfortunately this is a common issue with Drum Mixers, once it's been mixed it has to be paid for and disposed of.
Do you need concrete foundations and a concrete slab done in one trip? No problem. As we only use advanced Volumetric Mixers, it also allows us to change the mix to suit any weather conditions that might effect the job.
We appreciate that sometimes measurements can be off by a degree, and we our Volumetric Mixers, this isn't an issue. We are also able to change the concrete mix to suit different areas of the job.
See our Volumetric vs Ready Mix comparison and learn why we chose to switch to Volumetric instead of Ready Mix.

Premier MBP | The UK's #1 Volumetric Truck Supplier
We only buy our Volumetric mixers from PremierMBP.com, the leading suppler of Volumetric mixers in the UK.
With the ProAll Reimer Mixer from Premier MBP, we are able to use cutting edge batching technology to produce your quality concrete.
For more information about their Volumetric Mixer range, visit PremierMBP.com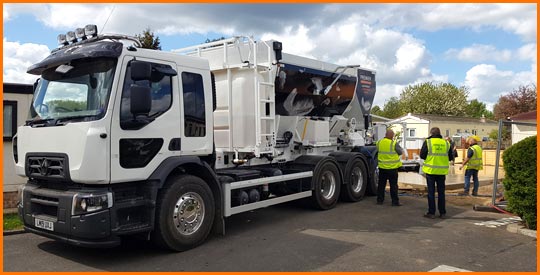 Find Out What Our Customers Are Saying
We've had some great feedback from our customers and they always help us improve our service. Want to add your testimonial? Then get in touch today and chat with our team.
I was a bit nervous when this truck turned up to supply my concrete but after getting the job completed quickly without having a load of mess outside my house, I was over the moon. I will be using 365 Concrete again for future projects.
only pay for what you use
Collection Service Available
Out Of Hours Delivery Possible
mixed to your requirements