Onsite Ready Mixed Concrete In Your Area
Supplying quality onsite ready mixed concrete in and around Berkshire, Surrey & Middlesex
Onsite Ready Mixed Concrete
High grade, quality concrete ready mixed onsite to your specifications, with No mess and No fuss.
We Supply Onsite Ready Mixed Concrete
365 Concrete are the leading supplier of Onsite Ready Mixed Concrete in the Surrey, Berkshire and Great London areas for the last 40 years. Onsite Ready Mixed Concrete is perfect for both Domestic and Commercial projects, no matter if they are small or large.
You can use our free concrete calculator to get a rough estimate of how much onsite ready mix concrete you will need for your pour, and our experts are only a call away to give you any advice you may need.
THE BENEFITS OF HAVING YOUR CONCRETE MIXED ONSITE
For more information speak with our professional team, contact us now!
Mixed Onsite, No Mess or Fuss
We use a fleet of Volumetric concrete mixers that allow us to mix your concrete onsite instead of at a batching plant. Get the concrete you need, fresh onsite, it's that simple.
Only Pay For What You Use
Over or under ordering becomes a thing of the past when you have your concrete ready mixed onsite. Our trucks carry enough materials to deliver up to 10.3 m3.
How Long Will My Concrete Take To Dry?
You can walk on concrete after 48 hours but, ideally leave it for at least five days. Formwork can be removed after 24 hours, although 72 hours is advised. Full strength is reached after 28 days.
Easy To Order
Give us a call or order online with our easy to use contact form and we'll get your concrete booked in. Same day delivery available within a 2 hour slot!
What Is Onsite Ready Mixed Concrete?
There are many ways to describe the different kinds of mixed concrete, such as Volumetric Concrete, Batched Concrete, Onsite Concrete, Ready Mixed Concrete – the list goes on. Each of these labels is a different way to mix and supply your concrete and they all have their own individual benefits, but that means there must be some downsides too, right?
With the ability to mix your concrete onsite, we are able to provide you with the exact amount of fresh concrete that your project needs. We transport the materials in dry form to the job site and only begin mixing the process when the customer is ready. This also eliminates having to deal with excess concrete that may of been over ordered and we are also able to supply additional concrete if the client needs.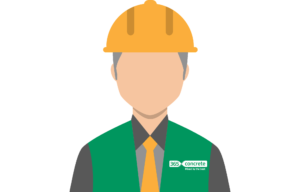 Want To Know More About Concrete Strengths?
We use a variety of different concrete strengths, and our team of experienced operators can tell you the exact strength you need, depending on the concrete project at hand.
Can We Pour It? Yes We Can!
Our Volumetric concrete mixers carry additional chutes that extend our reach to a total of 5 metres. So if we have access to the job site and a clear run, we'll be able to pour your concrete direct, helping you cut down on time and labour costs. Let the machines do the hard work for you!
We Carry Extra Wheel Barrows
Each of our Volumetric mixers carry an additional 2 wheel barrows with them as well as various concrete laying equipment such as tamp boards. If you're missing a bit of kit and need a helping hand, let our driver know.
365 Concrete Customer Testimonials