Concrete For Flooring Delivered Near You
Supplying quality concrete for flooring in and around Berkshire, Surrey & Middlesex
Concrete Flooring
High grade, quality concrete mixed onsite to your specifications, with No mess and No fuss.
We Supply Concrete For Flooring
365 Concrete have been mixing and delivering concrete for flooring for over 40 years in Surrey, Berkshire & Middlesex. We can supply your domestic or commercial project with high grade concrete mixed to your exact requirements. Our fleet of innovative Volumetric Mixers ensure you will only ever pay for what you use.
We pride ourselves on offering a 5 star service at competitive price and our concrete for flooring is laid to last. Have your concrete mixed by the best, call us now on 0208 751 0101
HAVE QUESTIONS ABOUT CONCRETE FOR FLOORS? WE HAVE ANSWERS!
For more information speak with our professional team, contact us now!
What Concrete Strength Do I Need?
The C20 mix is the standard mix strength when it comes to concrete flooring for domestic projects and is the strength we recommend to use. For more info see our concrete strength guide.
Can I Use Concrete Additives For My Floor?
Yes, there are a variety of different additives you can use to enhance and strengthen your concrete floor depending on your need. Contact us now for more information.
How Much Concrete I Need To Order?
We've provided instructions on how to measure for your concrete project on our Concrete Calculator page. You can also call us and we can work out the dimensions for your project together.
How Long Will My Concrete Take To Dry?
You can walk on concrete after 48 hours but, ideally leave it for at least five days. Formwork can be removed after 24 hours, although 72 hours is advised. Full strength is reached after 28 days.
Can We Pour It? Yes We Can!
Our Volumetric concrete mixers carry additional chutes that extend our reach to a total of 5 metres. So if we have access to the job site and a clear run, we'll be able to pour the concrete for your flooring direct, helping you cut down on time and labour costs. Let the machines do the hard work for you!
We Carry Extra Wheel Barrows
Each of our Volumetric mixers carry an additional 2 wheel barrows with them as well as various concrete laying equipment such as tamp boards. If you're missing a bit of kit and need a helping hand, let our driver know.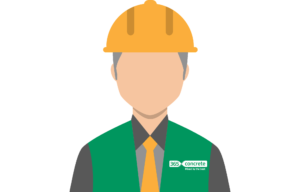 How To Prepare For A Concrete Flooring Installation?
We've compiled an easy to follow guide on how to measure and prepare for your concrete flooring project. Find our what steps to take to ensure it will remain crack free, and how to care for it after it's been laid.
365 Concrete Customer Testimonials