Concrete Screed Delivered Near You
We supply quality concrete Screed in and around Berkshire, Middlesex, Surrey, Ready and West London.
Traditional Dry Screed Suppliers
365 Concrete offer a quality Screed deliver and collection service for our customers. No mess or fuss, just great Screed.
We Deliver Concrete Screed
We have over 40 years experience mixing and delivering concrete Screed to our local area, ensuring that are community is supplied with high grade, eco-friendly concrete Screed with materials that are locally sourced and quality checked.
We use a fleet of Volumetric concrete mixers that allow us to deliver your Screed quickly and efficiently, leaving little to no mess. With state of the art Volumetric mixing technology, you will never over or under order again and you will receive the exact amount of Screed needed to get the job done.
Have your concrete mixed by the best, call us now on 0208 751 0101
DO YOU NEED CONCRETE SCREED? TRY 365 CONCRETE!
Want to find out more about our Screed delivery service? 
Contact us
now by phone or email!
Mixed Onsite, No Mess or Fuss
We use a fleet of Volumetric concrete mixers that allow us to mix your Screed onsite instead of at a batching plant. Fresh Screed, every time.
Only Pay For What You Use
Over or under ordering becomes a thing of the past when you have your concrete ready mixed onsite. Our trucks carry enough materials to deliver up to 10.3 m3.
Same / Next Day Delivery
When you order Screed, we will assign you a 2 hour slot with Same / Next day delivery available upon request. Mix with the best!
Easy To Order
Give us a call or order online with our easy to use contact form and we'll get your concrete booked in. Same day delivery available within a 2 hour slot!
What Is Traditional Dry Screed?
Traditional Dry screed is a mix of sharp sand and cement. When mixed and applied it creates a thin layer specialist concrete which enables a solid and level top surface or left bare for more of an industrial finish. Screed is a highly versatile form of concrete with numerous applications and 365 Concrete are the #1 supplier in your area.
Once this layer of dry screed is applied, you will be able to add the final top floor finish such as Carpeting, Laminate, Tiles or Wood Flooring. It is also often used as a finish over underfloor heating. Using traditional dry screed is an integral step to ensure that the flooring area has a durable, quality finish.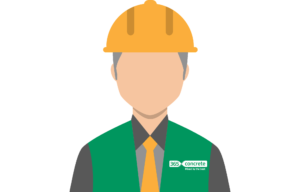 Read Our Screed FAQs
We often get asked questions about Screed and it's uses, so we've compiled a list of our most frequent Screed FAQs for you to explore. If you feel that you're question is still not answered then please contact us.