Volumetric Concrete or Ready Mixed Concrete?
What Is Ready Mixed Concrete?
Ready Mixed Concrete is a form of concrete delivery that starts at a batching plant. Your concrete is loaded into a Drum Mixer and begins mixing at the plant and continues to be mixed until at it's final destination.
What Is Volumetric Concrete?
Volumetric Concrete is mixed using a Mobile Batching Plant, or Volumetric Mixer. The dry materials are transported to the job site and mixed upon arrival, keeping the concrete fresh and online mixing what you need.
So What Type Of Concrete Do I Need?
We've compiled a detail comparison list below that goes over the major points of Volumetric Concrete vs Ready Mixed Concrete. Each of them has their own individual benefits but there is one clear winner.
VOLUMETRIC CONCRETE VS READY MIXED CONCRETE
It is always important for you weigh up the pro's and cons when choosing which concrete delivery is right for you. We already made this choice when we chose to invest in our fleet of advanced Volumetric mixers. While we believe that the Ready Mixed Drum machine still has it's uses in the industry, the more advanced Volumetric Mixer offers a cleaner, quicker and more efficient concrete delivery system. Let's take a look at the comparisons…

VOLUMETRIC CONCRETE
The biggest thing our customers have noted since switching to Volumetric Concrete is that over ordering is a thing of the past. With the ability to mix on site with our Mobile Batching Volumetric Mixers, we're able to deliver the exact amount of concrete needed for the job.
This saves customers money on both over ordering and under ordering which may add on additional delivery costs.

READY MIXED CONCRETE
Once an order has been placed with a company using Drum Mixer's, that amount of concrete is mixed at the depot and transported on site.
Any excess concrete will lead to additional costs for disposal and make added waste, under ordering will also lead to more delivery fees and potentially hold up the job.
VOLUMETRIC CONCRETE
With a Volumetric Mixer, we're able to mix all of the concrete needed on-site only. This leads a no mess and no fuss outcome, leaving the roadside or property free of any concrete waste after the job is complete.

READY MIXED CONCRETE
With Drum Mixed concrete there is always a chance of additional waste. As the concrete itself is batched at a plant, any concrete that isn't used on-site, even a shovel full, will need to be disposed of. This can lead to large amounts of expensive waste.
VOLUMETRIC CONCRETE
The largest capacity our Volumetric Mixers can carry is up to 10m³ but as it is mixed on site, this cuts down on the weight of the vehicle not only allowing it travel over more restricted areas, but also gives you the option to have additional concrete if needed.

READY MIXED CONCRETE
A typical Drum Mixer carries roughly half the amount of concrete that a Volumetric Mixer can produce. This limits it's capacity to complete any order where additional concrete may be needed on the spot.
VOLUMETRIC CONCRETE
One of the stand out features of the Volumetric Mixer is the ability to mix on the fly. Your mix can be changed to adjust to weather conditions easily and we can also supply different strength mixes from the same delivery. You need foundations and slab in one pour? No problem!

READY MIXED CONCRETE
One major downside to using Drum Mixed concrete is the lack of flexibility. At any one time you can only order one amount of concrete without the ability to change consisntacy or strength. This is a huge downside when it comes to facing challenges on the work site.
VOLUMETRIC CONCRETE
As our concrete is all mixed on site with our fleet of Volumetric Mixers, you're under no time frame of concrete setting or going off. Our delivery system is also incredibly quick with an unload speed of 1m³ per minute.

READY MIXED CONCRETE
The only downside to using Drum Mixed concrete when time is of the essence is that during any issues, you will only be given a limited window of time from the point of batching to the point of delivery. On some work sites this may be an issue.
AND THE WINNER IS?
The Volumetric Mixer. This advanced piece of mobile batching technology is designed for the modern work site. With the ability to produce different strength concrete on the fly, adapt to various working conditions and maintain a high grade concrete output, there is no better choice. Have your concrete mixed by the best, contact us now.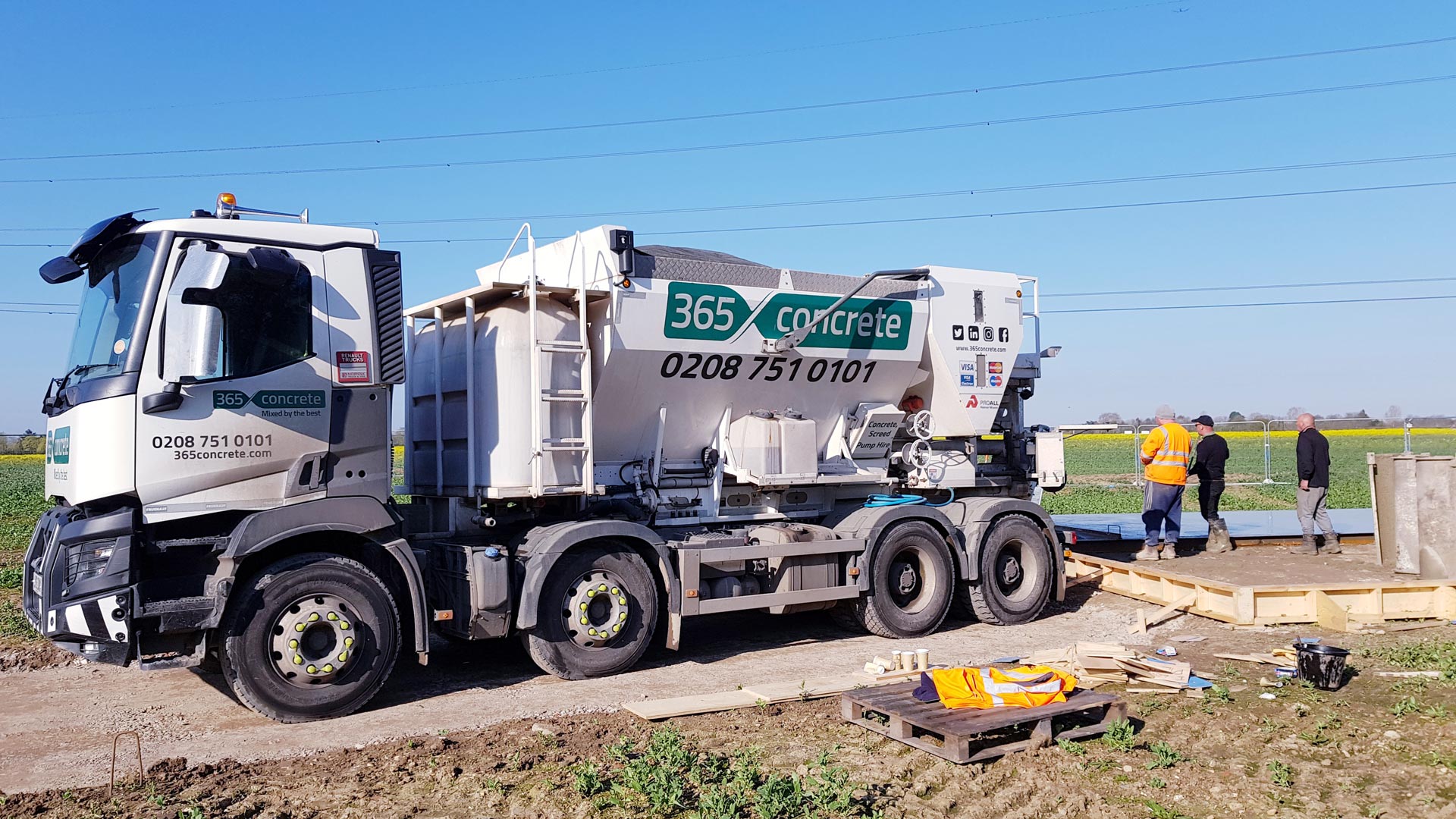 Find Out What Our Customers Are Saying
We've had some great feedback from our customers and they always help us improve our service. Want to add your testimonial? Then get in touch today and chat with our team.
A great price and service. What more can you ask for. I've already recommended 365 Concrete to a few friends and I'll call again if I need more concrete.
only pay for what you use
Collection Service Available
Out Of Hours Delivery Possible
mixed to your requirements