Concrete Pump Hire In 
Surrey
We can supply Ground Line Pump hire and Boom Pump hire. Give our team a call now on 0208 751 0101
Book Your Concrete Pump Hire
Concrete Pump Hire in Surrey
 We provide a professional concrete pump hire service in Surrey. Our Surrey concrete pump hire service comes with a fully trained concrete pump operator that will arrive with the concrete pump beforehand, set up and then operate the concrete pump as your load is being delivered.
We are the leading concrete pump hire service in Surrey. Providing a quality concrete pump hire service at a competitive price to the local community.
Sometimes you need to have your concrete load delivered to a hard to reach area that has limited or dangerous access, or is simply unreachable by road. Our concrete pump hire service in Surrey will help bridge that gap and get your concrete where it needs to be with no mess or fuss.
We can provide you with Ground Line Pump hire in Surrey or Boom Pump Hire in Surrey, depending on your projects needs. Contact the team at 365 Concrete for more information on our Surrey concrete pump hire service.
Both the Ground Line Pump and Boom Pump have their different uses and strengths, with the former being the more requested concrete pump. Take a look at the differences between the two pumps to see which is right for you: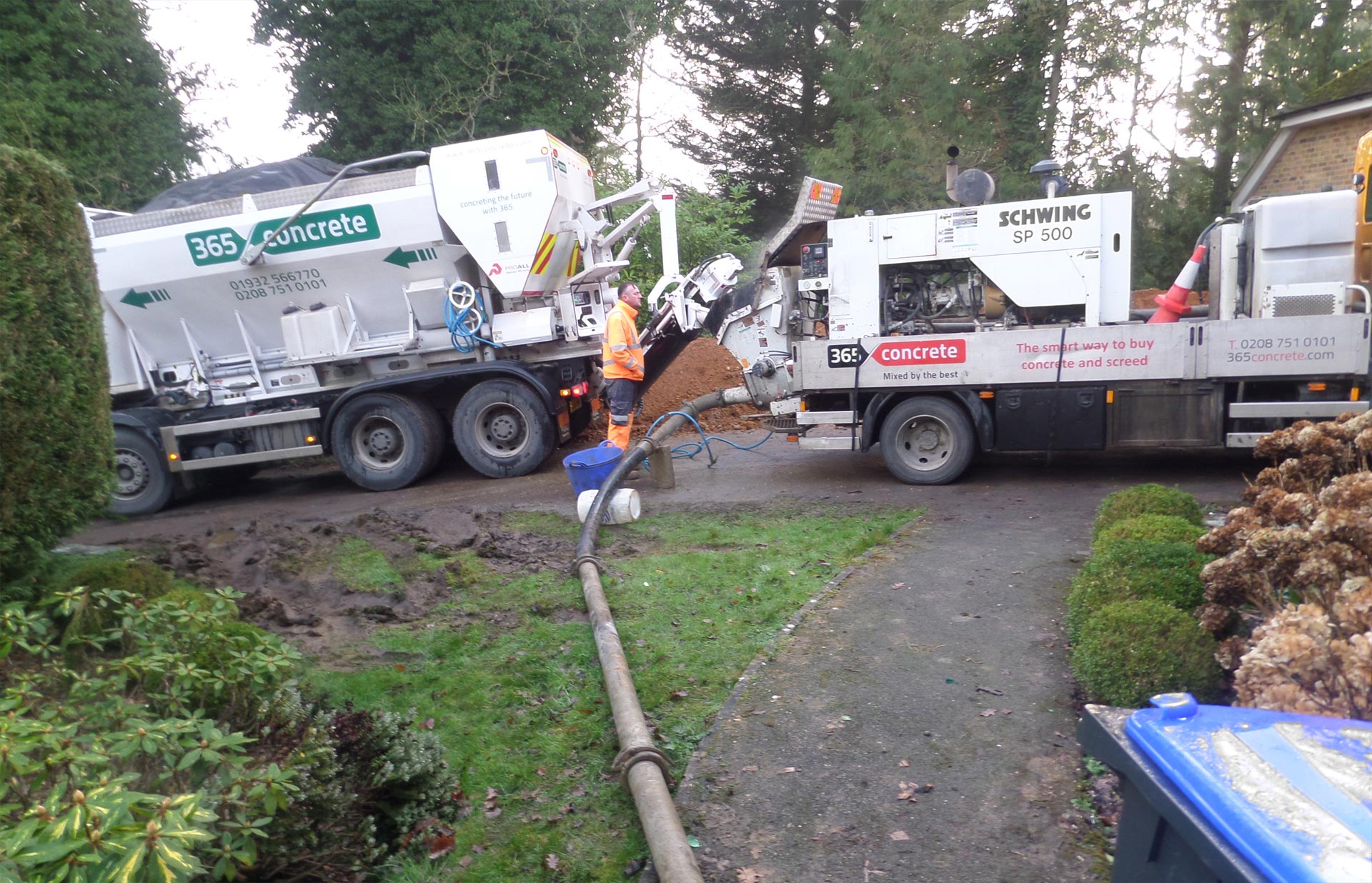 Ground Line Pump Hire
Used for concrete projects that have limited access including hard to reach areas or dangerous surfaces, and to cut down on time and labour costs.
– Reach distances up to 90m
– Reduce on-site labour costs
– Cut down on mess and fuss
– Ideal for hard to reach areas
– Pump up to 1m³ per minute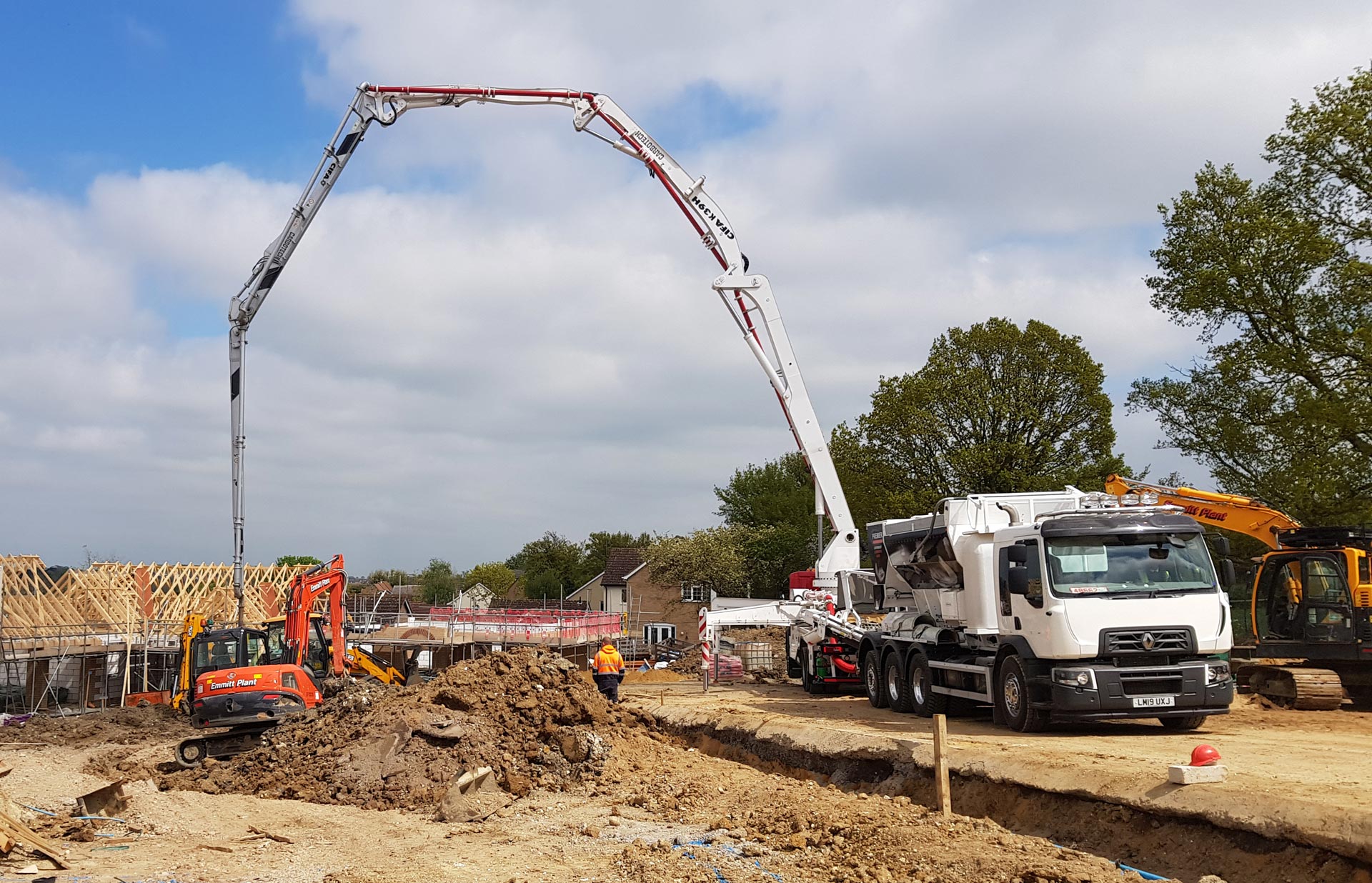 Boom Pump Hire
Used for concrete projects involving tall obstacles such as walls or houses. and to enable to pumping of concrete over deep holes, trenches or waterways.
– Deliver concrete over obstacles
– Reach over buildings or water
– Cuts down on waste and mess
– Fast concrete delivery
– Cut down on labour costs
Surrey Concrete Pump Hire
Our expert team is just a call away to help you get your concrete pump booked. Contact us now and discuss your needs with us and we'll make sure you get the right pump for the job with no hassle or fuss.
Cut Down On Labour Costs
Using a concrete pump helps cut down on expensive onsite labour costs. When you hire a concrete pump, you let the machine do the work for you.
Quick & Efficient Concrete Delivery
Pump up to 1m³ of concrete per minute using a concrete pump. This will help you get your job finished quickly and efficiently without hassle.
Easy Ordering Service
Ordering concrete pump hire in Surrey couldn't be easier with 365 Concrete. Contact us now and speak with our helpful team and we'll get you booked in.
Providing Concrete & Pump Hire For Some Big Names
We've worked with some big name companies and also smaller local business, providing them all with quality concrete, a professional service and competitive pricing. It doesn't matter if you have a small domestic concrete job or large commercial concrete project, 365 Concrete has you covered.
We Also Supply High Grade, Quality Concrete
At 365 Concrete, we use a fleet of Volumetric Concrete Mixers. This allows us to transport the raw materials to be mixed onsite ensuring you get delivery of fresh ready mixed concrete every time. Using this process means that you will only ever pay for what you use with no excess concrete charges due to over ordering and with virtually no mess to clean up.
With our advanced Auger delivery system and extra chutes, we can extend our concrete delivery reach up to about 6m from the back of the truck. So if we have good enough access, we can pour your concrete directly to the job site saving you labour costs and time.
Reliable Concrete Pump Hire Near You
Our concrete pump hire service covers the entire area of Surrey including Ashford, Guildford, Cobham, Addlestone, Camberley, Chertsey, Woking, Kingston, Leatherhead and so on. It's easy to see why we are rated among the top concrete pump hire services in the Surrey area. We pride ourselves on supplying a professional concrete pump service with competitive prices.
So if you're looking for a reliable concrete pump hire in Surrey, gives us a call or contact us via our easy to use online form for a free quote. We have a concrete calculator as well as various guides and FAQs available to help with your measurements and questions if you also need concrete. Our experts are happy to answer any of your questions.
TESTIMONIAL
"First time using a concrete pump but it was unavoidable due to some hazardous ground. 365 Concrete were professional through and through."