Concrete Pumping does exactly what it says on the tin. It's simply a way of transporting concrete in liquid form from one destination to another, in our case it will be from our concrete mixer to the job site.
Why Would I Use A Concrete Pump?
There are a few reasons why concrete pumping can benefit our customers and with a concrete pump's ability to quickly, efficiently, and accurately pump concrete to its required destination, it's no surprise to see them more often now on construction sites across the globe.
So let's go a bit into further detail:
Save Time
Concrete pumps are fairly easy to set up, and once they are, they can transport concrete at around 1m3 per minute. That means your project can be completed much faster than by using more traditional forms of concrete delivery, such as wheelbarrows or a concrete dumper.
Save Money
You will have to pay for a concrete pump hire initially, but in turn, it will save you on additional labour and time costs as the machine will be transporting the concrete for you in a timely manner.
It's no longer uncommon to arrive at a job site and see minimum or impossible access. It could be stairwells, unstable ground, walls, hills, or even rivers. A ground line or boom pump can easily bridge that gap and ensure the concrete reaches its target quickly and safely.
What Types Of Concrete Pumps Are There?
There are two types of concrete pumps available to hire. The more common Ground Line Pump, and the more specialist Boom Pump. Both of these concrete pumps have been designed to pump concrete, and you will get the same result with both of them, but their functionality differs.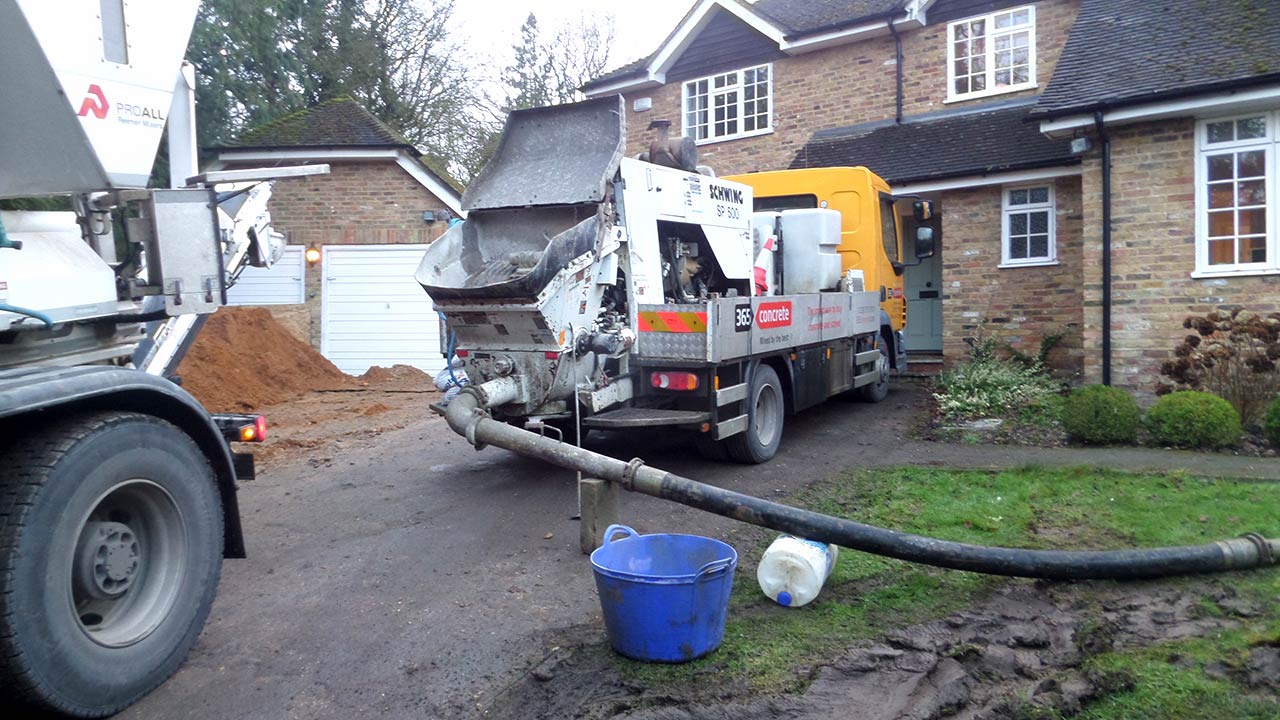 The Ground Line Concrete Pump:
You will be able to complete most jobs with a Ground Line pump. These are smaller and much more portable than the Boom pump and are perfect for jobs with limited space or ground access that is either difficult or too tiresome for manual labour to cope with.
When using a Ground Line pump, your concrete will be poured into a hopper at the base of the concrete pump and then pushed through a series of interlocking flexible and/or steel hoses, able to go in a straight line or bend around curves depending on the angle.
A standard Ground Line pump comes with around 50m of hoses, but they are capable of reaching distances up to 150m.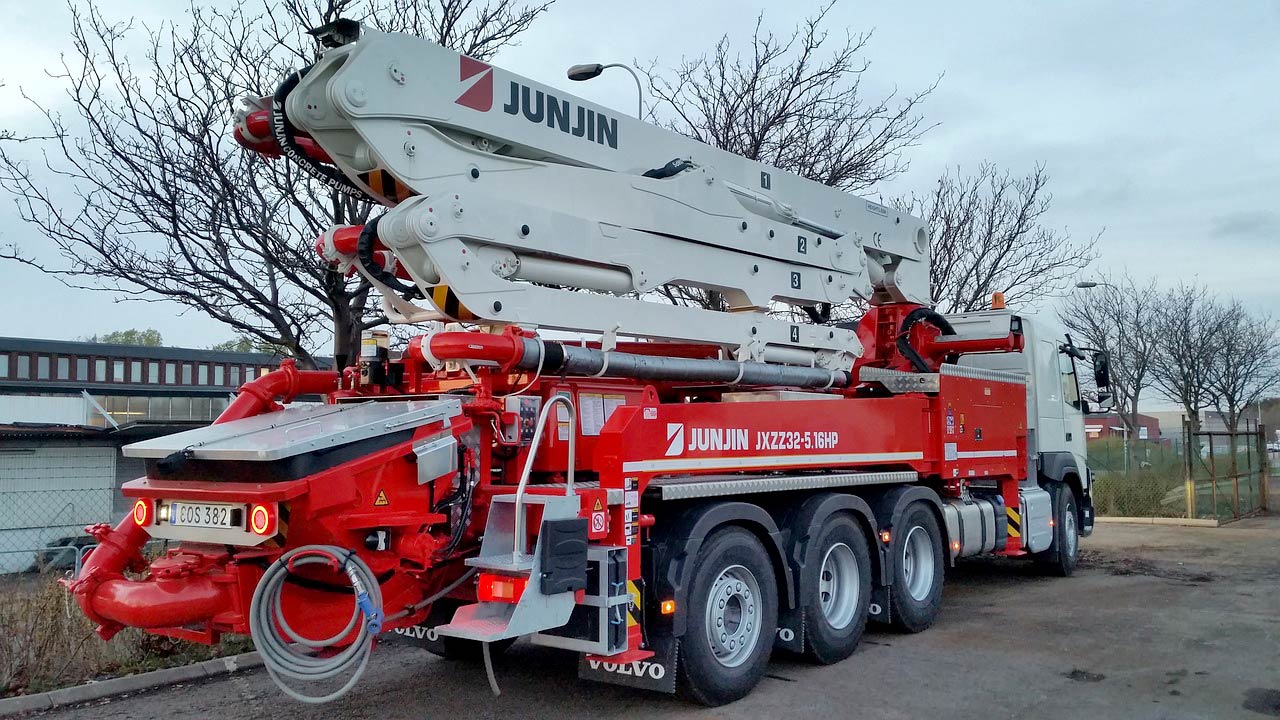 The Boom Pump:
The unique feature of the concrete Boom Pump is its robotic arm delivery (known as the boom). It can extend itself to manoeuvre over all kinds of obstacles, including high walls, buildings, areas of unstable ground, and even water.
You'll want to use a Boom pump to reach high or limited access areas. With its ability to traverse over obstacles and tight areas, the Boom pump can offer you more flexibility when it comes to concrete delivery.
When using a Boom pump, your concrete payload is poured into a hopper the same as the Ground pump and then pushed through a series of pipes attached to the Boom arm. As standard, a Boom pump will reach around 20 metres but can be extended to approximately 70 metres, making it ideal for those high-up jobs.
Concrete Pump Development & Future Use
How concrete is mixed, moved and laid to the job site has evolved many times over the years. Starting from stand-alone mixers producing concrete at a snail's pace and needing back-breaking labour, to now being able to be mixed on-site at the touch of a button and poured directly to the site.
Concrete Pumps are becoming more and more of a common sight on modern-day construction sites, both domestic and commercial, and you can expect to see more of them in the future as our need for convenience and efficiency rises each year.
In Summary
To sum up the major benefits of why you should hire a concrete pump for your next job, we present the following:
Concrete pumps are fast, efficient and clean
They are able to reach hard-to-reach, limited-access, or dangerous areas
You have more control over your concrete, with far less mess and spillage
You will be able to cut down on expensive labour costs
Contact 365 Concrete today for all of your concrete and concrete pump needs. Let our machines do the hard work for you.